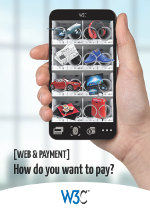 W3C lanceerde vandaag, 21 oktober 2015, de Web Payments Working Group om betalingen op het Web makkelijker en veiliger te maken en het online 'check-out' proces te stroomlijnen. W3C's langetermijndoel is een ​​geharmoniseerde betalingservaring op het Web, ongeacht het apparaat dat wordt gebruikt en of de transactie plaatsvindt in een applicatie of een winkel.
De Web Payments Working Group zal standaard Application Programming Interfaces (API's) maken om een ​​breed scala aan bestaande en toekomstige betaalmethodes te ondersteunen en om registratie van betaalmiddelen en selectie daarvan door de browser te vergemakkelijken. De standaard API's zullen een basis vormen voor geautomatiseerde beveiligde betalingen en ook voor een vereenvoudigde check-out en betalingservaring. Dit betekent dat er meer betalingsmogelijkheden voor handelaren en gebruikers zullen zijn. Het zal ook makkelijker voor webontwikkelaars worden om bestaande en nieuwe betaalstromen in hun applicaties te integreren.
Lees het Web Payments Working Group Charter FAQ, het volledige persbericht (Engelstalig) en de getuigenissen van W3C-leden, waaronder Bloomberg, Deutsche Telekom, Digital Bazaar, ETA, Federal Reserve Bank, Ingenico Labs, MAG, NACS, Qihoo360, Rabobank, Ripple en WorldPay.
De Engelstalige testimonial van de Rabobank luidt:
Rabobank supports the launch of the Web Payments Working Group. In current development of web payments, we have encountered lack of clarity in the interaction of payment related business processes such as from payment wallet to retailer check-out. Rabobank expects the Working Group results to be instrumental to further standardization in this field.
- Evert Fekkes, Business Information Manager